Captain Bruce Mac Bain
Bruce, the son of a U.S. Naval officer, was in his first sailboat at 8 years old and he has enjoyed sailing ever since. After a 13 month circumnavigation aboard the tall ship Picton Castle in 2005-2006, Bruce obtained his USCG 100 ton license and relocated to Ft. Lauderdale, FL to work as a corporate delivery captain for a Florida-based yacht dealer before partnering with Captain Jorge Ventura to form Meridian Yacht Services.
Bruce has delivered sailing catamarans and monohulls from France to the USA, up and down the Eastern Seaboard, as well as to and from the Caribbean, Central and South America.
With a Master's degree in Education and an active sailing instructor, Bruce's knowledge and experience makes him uniquely qualified to provide a fulfilling and positive training experience at any level.

Captain Jorge Ventura
Born in Portugal in 1973, Jorge started sailing professionally in 1997 and has since logged over 170,000 nautical miles in the Atlantic, Pacific and Indian Oceans as well as the Mediterranean and Baltic Seas.
He has delivered yachts ranging from 32 foot mono-hulls to 57 foot catamarans. He holds an RYA Yacht Master certification, and he is especially qualified for international deliveries with his fluency in English, Spanish, French, and Portuguese.
Jorge lives on the island of Flores in the Azores on his farm with his dog Rolf, his sheep and chickens.

As of the 8th of May, 2017, Jorge announced his retirement as a Yacht Delivery Captain after 18 years in service. In his farewell address he stated:
"The end of an era. My last yacht delivery ended last September and last week I turned down 2 offers, marking the first time I ever did that since I began my sailing career 18 years ago.
I feel I have done enough, I made my childhood dreams come true, sailed 235000 miles in all oceans and most seas (except arctic and antarctic, not many deliveries going on there...) and delivered exactly 101 yachts, both to beautiful places and to shit holes in the middle of nowhere. I wasn't the best captain but I was good enough, and now it´s time to stop, like one should when one looses the thrill and enjoyment in a profession. I am tired of being half nomad, tired of flying, tired of leaving my dog ,tired of getting cold and wet, tired of being answerable for boats worth hundreds of thousands and the lives of people, tired of severe weather, tired of not sleeping a full night through, tired of seeing scary stuff, tired of having to find, select, meet and live with new people 24/7 every 3 months or so, tired of not knowing where I'll be in 2 months time. The more you know about a job the more you are aware of what can go wrong, and I'm tired of being concerned all the time at sea. I want to hear the wind howling without having to go on deck to reef or wonder if something is going to give, I want to hear a funny noise in the engine and if it packs in I'll walk home.I have had enough challenges.
The people I would like to thank are far too numerous to name here , all the crews who helped me, got my back, put up with me and made it possible that I never wrecked or sunk a boat or lost or injured someone, and who helped keep the old "wear and tear" to acceptable minimums. People with whom I shared lots of good times and enough hard times. You know who you are, friendships forged at sea never die. There are 2 people who must be thanked by name,though: Nick Irving, the man who trusted me and sent me off across the World for nearly 15 years and Bruce MacBain , shipmate, business partner and brother who was there when things were dark and remains an inspiration.I settled on the most beautiful island of the dozens I have seen and sailed to and I'm starting a new life as a micro brewer. Again, I thank all of my shipmates, including the 3 assholes out of a total of maybe 300 people. I go to the harbour every day in season to see if a familiar face will pop out of a hatch, and if you ever come by here by chance or design, just ask for me ,I'm easy to find. I wish you all may stay dry and safe. Thank you!"
We'll be missing you, Captain, but you will never be forgotten.
Fare thee well, Jorge.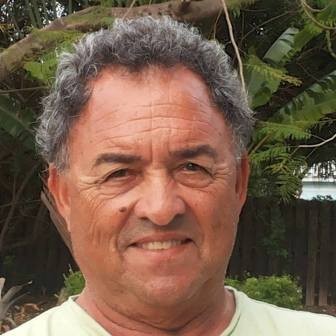 Captain Paul Squire
Paul's love of the sea dates back to the 60's when he began as an amateur offshore delivery yachtsman involved with several ocean crossings in small craft under sail. He built his experience doing year-round deliveries in all European waters on both power and sailing vessels.
In 1973–1974 Paul attended the Plymouth School of Maritime Studies, Plymouth University, UK, and obtained his DTI Yachtmaster (Ocean) Certificate of Competence #3473, a life time unlimited oceans/tonnage license.
From 1967-1987 Paul worked as a Captain/engineer on various sail & power yachts, small commercial & fishing vessels up to 250 ft. in North & South American waters, the Caribbean, Pacific, Atlantic, European & Baltic waters – year round. During this time he became the Captain of the M/V LADY GHISLAINE , a 58M private motor yacht in the Mediterranean.
After a fourteen year relationship with Palmer Johnson in Antibes, France as their European Manager, he returned to the sea to be a private skipper on a number of motor yachts and cruised the Eastern U.S. seaboard, UK, Europe, Mediterranean, Aegean Sea and Turkish coasts, and finally settled in Fort Lauderdale in 2002.
He has become a Certified Marine Surveyor and now divides his time between performing surveys on both motor and sailing yachts and delivering yachts along the Eastern seaboard, the Bahamas, and the Caribbean.
You may wish to read more about Captain Paul's survey services at his website: http://www.simexmarinesurveyor.com